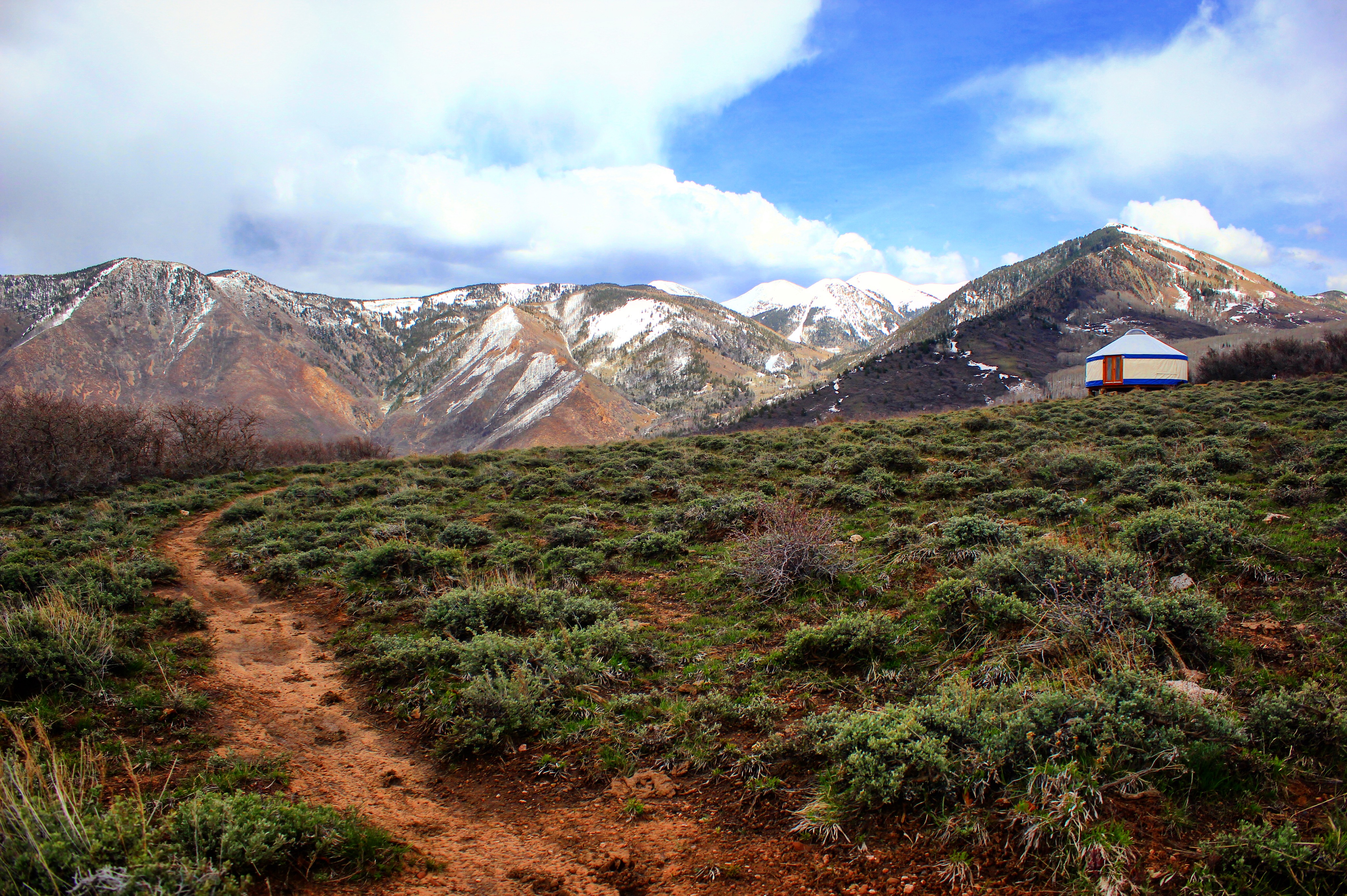 Our Jimmy Keen Flat Yurt sits on a high desert mesa overlooking the prominent towers and buttes of Castle Valley, the winding Colorado River and Arches National Park far below.  Situated nearly halfway down the Whole Enchilada Trail and at the intersection of the newly constructed Jimmy Keen Loop and Kokopelli Trail this yurt provides the perfect location for mountain bikers to extend their adventure. Road bikers and auto tourists will also find this location ideal as it sits only 100 yards off the popular and scenic La Sal Loop Road. This yurt is available during the summer months only.
Guests here enjoy a cozy 20 foot yurt, accommodating 8 people. We offer two bunks, each sleeping one on top and two on bottom, as well as two large cots with sleeping pads (no bedding is supplied). A kitchen area fully stocked with all necessary cooking equipment, dining table and chairs, wood burning stove and small library with games round out this cozy and comfortable yurt. For a full list of what we supply and what you should bring see the What to bring and Jimmy Keen Amenities.
Scroll down for reservation calendar.

Directions:
From Moab, head south on US-191/Main Street and travel 7.8 miles.  Turn left onto Co Rd #127/Old Airport Rd (brown sign indicating Ken's Lake and La Sals is located at the turn on US-191) and travel 0.6 miles.  Turn right onto Co Rd #127/Forest Road #046 (La Sal Mountain Loop) and travel 18 miles.  Turn left onto an unimproved double track and proceed 150 yards to the Jimmy Keen Parking area on the right.  Note: This road is not well marked and may be difficult to identify.  If you pass the Kokopelli Trail turn around at the Castle Valley overlook and head back.  The road will be within 75 yards of the Kokopelli Trail.  Once parked walk 50 yards north around the grove of Scrub Oak to the Jimmy Keen Yurt.  We provide a cart to haul your gear from your car.
Jimmy Keen Waypoint: 38°32'38.41″N – 109°18'56.97″W
Travel time from Moab to parking lot: 45 min – 1hr
We hope to have this yurt location available again in the future.  Stay tuned for updates.
---
Jimmy Keen Flat Yurt Availability